Candace Owens's latest foray into the sphere of defending antisemitism ought to be something everyone can easily condemn. Discussing rapper Kanye West's controversial post, which has gotten him locked out of his social media, Owens said Monday: "If you are an honest person, you did not think this tweet was antisemitic. You did not think that he wrote this tweet because he hates or wants to genocide Jewish people. This is not the beginning of a Holocaust."
Candace Owens on Kanye West's antisemitic tweet: "If you are an honest person, you did not think this tweet was antisemitic," adding "It's like you cannot even say the word 'Jewish' without people getting upset" pic.twitter.com/tXYOWfI9UE

— Jason Campbell (@JasonSCampbell) October 10, 2022
That post in question, as you've probably seen, was:
I'm a bit sleepy tonight but when I wake up I'm going death con 3 On JEWISH PEOPLE The funny thing is I actually can't be Anti Semitic because black people are actually Jew also You guys have toyed with me and tried to black ball anyone whoever opposes your agenda.
I'm no Jewish Studies professor, but that seems pretty antisemitic to me. And that "dishonesty" Owens is condemning apparently must extend to Ben Shapiro, who founded the Daily Wire, the company she works for, who said Kanye's "'death con 3' posts and Black Hebrew Israelite language are clearly antisemitic and disturbing."
As is so often the case with Owens, she leans into controversy when it elevates her personally, typically around the time she has something to promote — in this case, a Daily Wire documentary on the long-known BLM funding scandals. And this defense of Kanye's posts apparently came at the same time Owens was convincing the infamous Ray J — Kim Kardashian's ex-boyfriend, who shot the sex tape that launched her to global fame — to appear with Kanye at the documentary premiere in Nashville — something TMZ reports was her doing, in a deliberate attempt to troll Kanye's ex-wife.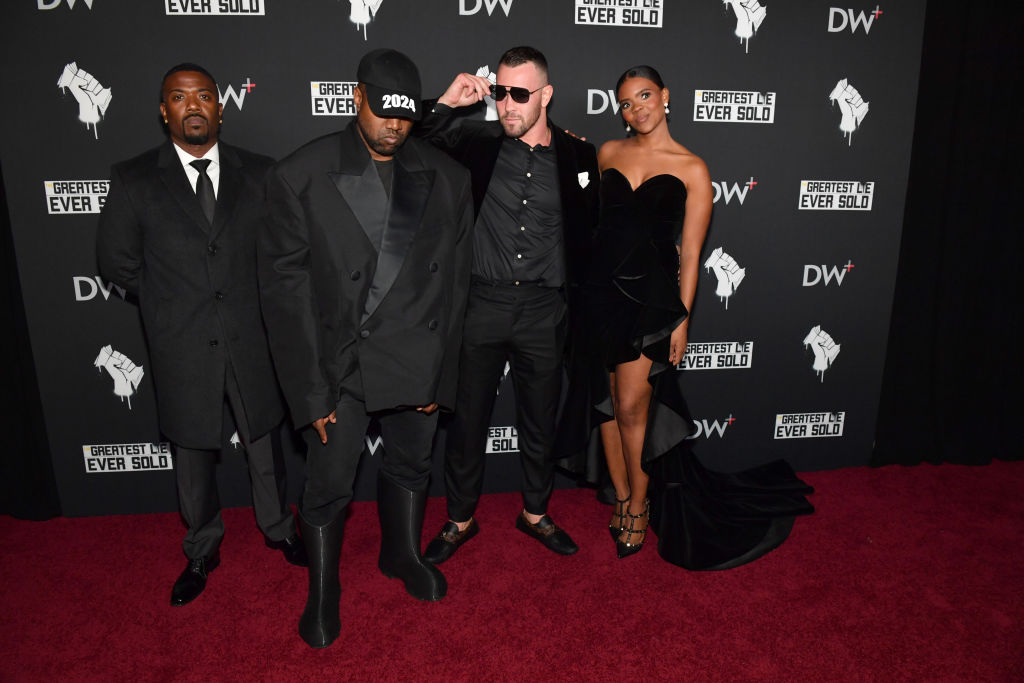 The standard Owens creates here is laughable. Just because you don't want to actually start a holocaust — and of course there's no indication anyone here is actively engaged in planning genocide of any kind — that doesn't mean the thing Kanye just said wasn't antisemitic. At a time when crime targeting Jews has been dramatically increasing, endorsement of such attitudes by a powerful and influential figure takes on an additionally disturbing quality.
Conservatives have been winning many culture war battles of late, and engaging them in an aggressive way is both beneficial politically and important for the future of the country. But is this what winning the culture war looks like? What exactly is bringing Ray J to your premiere supposed to achieve? Owens's recent statement about the wearing of the "White Lives Matter" shirts at the Paris fashion show — "I am grateful to have been by his side for such an iconic moment which fostered a much needed national conversation" — seems to indicate she doesn't see a difference between furthering ideas and stroking egos.
There's a line from Belloc that applies to Kanye: "The artist, though he is not at the root of human affairs, is a necessary and proper ally in their development." Mental illness or no, his power to drive debate is real. Let's hope he gets better advice from better advisors than the likes who think it's a good idea to bring out the "I Hit It First" rapper to troll the mother of Kanye's children. That's not done on his behalf, or the behalf of a "national conversation" about anything other than Candace Owens.